PAN EUROPEAN RECORDING Presents VOYAGE 2
"Mort Pour La France"-Pan 009
1. Koudlam / I will fade away
2. Lisa Li Lund / 12000 Waves
3. Chicros / What should I lie about?
4. Kill For Total Peace / Who is the weatherman?
5. Sir Alice / Prophecy /
6. Juan Trip' & les Ordinateurs / Ping Pong (live,Paris 2010)
7. My Girlfrined is better than yours / Toro
8. Aqua Nebula Oscillator / Dead Soul
9. Service / Russians /
10. White & Sticky/ Emile
11. Turzi Electronic Experience / Renaissance
12.Mogadishow & Mohini Gesweiller / Ordinary Shares
13. Etienne Jaumet / Tuner 2
14. Shazzula / Seance Friction
15. Jonathan Fitoussi / Cycle 500
(First solo track of S. "Invocation of my Possessed Sister" include!)

Tracklist///

Containing rare and unreleased tracks by

01. MULHOLL▲ND DRIVE - Lost Highway
02. GL▲SS †33†H - Dhyāna
03. MADAME O & IHRE KOPFFILM BANDE-Hexensirup
04. §ђ∆ZzV⇂∆ - Invocation Of My Possessed Sister
05. DRUGS FOR DRUNKS - Dreeems
06. I†† - πsåLµ
07. UNISON - Darkness
08. d3thplay - 4NTH3M
09. MATER SUSPIRIA VISION -Dick Laurent is dead
10. NUN†CHIC - FOG
11. BUTTERCLOCK - Crush
12. EXCEPTER - ISIS (witch I am)
13. MUSHY - Dominio Del Disordine
14. MELLOW GRAVE - Oxygen
15. HIGH PARK - Seriozniy Razgavor
16. \\\^◊^/// - Sabrina
1

7. STORY OF ISAAC - New Flesh




18. SKYLINES (Raw Moans/Party Trash) - SKY




19. WORTHLESS WASTE - The Fool
Beko Dsl Label
-
May 2010 (French Label)

With modern witch/mater suspiria vision/madame o und ihre kopfilm bande
Mater Suspiria asked S. for Vocals.



Beko_Box1_1

1

Modern Witch

Cinema

5:03




2

Modern Witch

‡◊‡

2:40




Beko_Box1_2

3

Mater Suspiria Vision-

Wtxchs [A Suite Of Decay]

11:09



Featuring - Shazzula

4

Mater Suspiria Vision

Creatures Of The Night

4:41




Beko_Box1_3

5

Madame O Und Ihre Kopffilm Bande

Hexkraut I

15:0




7
MATER SUSPIRIA VISION-"Second Coming"
Disaro (Usa)-cdr022-Fevruary 2010
Electronic,Drone,Industrial,Experimental,Darkwave.
First MSV feat. Shazzula on compilation!!
I

Welcome To The Witch House

8:35



Featuring - Shazzula

II

The Witch House Of Hansel And Gretel

5:00




III

2000-12

4:46




IV

Exorcism Of The Hippies

3:39




V

Reincarnation Of Baba Yaga

3:39



Featuring - Shazzula

VI

Escape From The Witch House

13:32
Over Gain Optimal Death avec Shazzula
"The Dark Arts"-limite

d cdr
Assommer 006-Usa
-2010-
Limited CD with Poster Package of first time collaboration between OGOD and Shazzula
First recordings also where S. Plays Bass! (and Synth of course)
100% LSD Jams! Recorded in Los Angeles,end 2009.
1

Ritual






2

Garden Of Time






3

Deep Travel Into The Mind






4

The Opening Void
w/ Aqua Nebula Oscillator
"Excavation" EP -Limited 500 copies.
Assommer (Usa/2010)
Lo Fi live Recordings of the band in the caves,non cutted and long versions,100% LSD!!! On the OGOD label ASSOMER (Los Angeles) They also did a MAINLINER LP,limited!
The artwork is amazing,all handmade Gold and Black,a pure beauty!
with band members:
Vince podazski (drums),Simon Bouteloup (bass),Shazzula (vocal,synth)
Only david Os remains since the early years (guitar,vocals)
tracklist///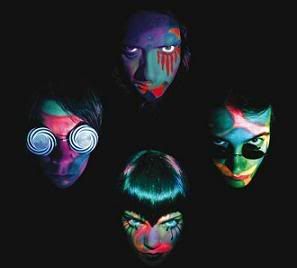 W/ Aqua nebula oscillator
"Under The Moon Of"-
Pan European Recording-France-Pan 006/CD & LP
- 2008 -
With band members:
Vince podazski (drums),Simon Bouteloup (bass),Shazzula (vocal,synth)
Only david Os remains since the early years (guitar,vocals)
01. LSD Therapy
02. Flying Mountain
03. Somebody In Your Nose
04. Overmoon
05. Lost In Space
06. I Don't Care
07. Beware
08. Incantation
09. Silvermoon
10. Girl
11. Egg
12. Can You See ?
13. 3013
14. Virgin Sleep
BAD ACID TAB6-DVD MAG (UK)
Feat Aqua Nebula Oscillator tracks (2008)




------------------------------------------------------------------Bad Acid Tab6 is finally out!!! This is undoubtedly the most intense, insane and unruly issue of Bad Acid yet! Feast your eyes:..... Cover artwork by Malleus Rock Art Collective........ 70 minute dvd …featuring promo videos / live footage, with accompanying written features, on the psychedelic Wicked Minds, King Suffy Generator and Imogene; the dark prog of Antonius Rex and Taras Bulba; solid doomrock from Nesta, Northwinds and Ogre; and heavy sludge/post hardcore from Manatees and Lento; plus a mental Malleus Art Gallery to a Morkobot soundtrack! ….. With ultra-dark lysergic disturbo-vision animated links by Contanimation….. 56 band / 102 track / 11 hour mp3 audio disc (audio insanity prevails!!!), with accompanying written features. (Listed here in totally vague categories) Doom, Sludge and Drone: Merca, Deer Creek, Raw Radar War, Orange Goblin, Colossloth, Leather Nun, Acid King, Moss, Queen Elephantine, Aluna, Hardcore, Punk and Crust: All Systems Fail, Instinct Of Survival, Charger, Psychedelia, Kraut and Space Rock: Noetics, Gravanzia, White Hills, Aqua Nebula Oscillator, Earthling Society, Pilgrim Speakeasy, Litmus, Thrash, Death and Black Metal: Our Survival Depends On Us, Masacre, Barbara, Khlyst, Heresi, We Are Carnivores, Raucous, Acid Folk and Dark Prog: Elusiv, For The Blind, Orne, Post Hardcore and Stoner: Humanfly, L'Ira Del Baccano, Hey Colossus, Capricorns, Supernaturals, Hotel Wrecking City Traders, Entronaut, Ahkmed, Kalas, 60's/70's Rock and Garage: Danava, Orange Sunshine, Mercury Sound, Radio Moscow, Terraplane, The Hutchinson, Hessus Attor, Jupiters Child, Industrial, Noise, Dark Ambient and Electronica: Inanna, Temples, Pupilar, Sleep Research Facility, Shinjuku Thief, The Crowned Heads Of Europe, Skullp, Building The Cathedral. Extensive interviews with British doom rock legends Orange Goblin, Alan Dubin (ex Khanate/OLD) on his new project GNAW, Aussie psych sludge fiends Fire Witch, and Welsh hardcore me(n)tallers Taint. Bone Structure Records label profile with a 14 track / 105 min audio sampler. Cult dark ambient, drone and deathnoise label feature, with extensive release discussion and additional audio tracks by Grauen Pestanz, Mystified, Vagabondage, Camisole, Transcendent Device, Grim Pig, Room 8, Funebrum, Breath Of Chaos,Malvoisie, 88, Infinite Mass, Shores Of Pluto and Rei Rea.
Trip in Time Vol.3
Psychedelic Adventures on Planet Earth


Tracklist///
01 Electric Mystical Soul Vibration - Bohemian Dropout
02 The People - Real Love
03 Ginger - Now I See
04 Jenda Wight - Unstable Mind (Trip in Time Edit)
05 Jarvis Jay - Your Gone
06 Fuzz Manta - Mysterious Thoughts
07 Mother And Sun - Lasting The Circle
08 Psychoine - Serpenteando
09 The Magnificent Brotherhood - My Flash On You
10 Crystal Caravan - A New Time Is Coming
11 Living Room - Times Like Lakes
12 The Flying Eyes - Lay with me
13 Black Box Massacre - Djingis Kong
14 Serpentina Satelite - Madripoor
15 Aqua Nebula Oscillator - Celestial Dream
16 Space Debris - Medicine Man
17 Fantasyy Factoryy - Summer Days
18 Zaphire Oktaloque - Green Grass And The Black Clouds
-Voyage-
Facing the History Of French Psychedelic Music
Pan European recording-France-Pan 001-cd /2008
w/ Aqua nebula Oscillator AND Muzikasphaera.
(Out of Stock!)
Tracklist///
01 - One Switch to Collision - Smokes
02 - Lisa Li Lund - Heavy Horse
03 - Aqua Nebula Oscillator - Ready to Fly
04 - Wolf Rayet - I was down
05 - Service - The Dog
06 - Juan Trip - High America
07 - Butch Mc Koy - Sin
08 - Chicros - New Orleans
09 - Mogadishow - Mantra I
10 - Kill For Total Peace - Psychopedestrian
11 - Musikasphaera - Beware
12 - Turzi - Tremolo Army
13 - Ulysse - The Countess's Smiles
14 - Etienne Jaumet - Doudouk
15 - Rob - Improvisation